Sound barrier sheet (Non-String)
RC-S-01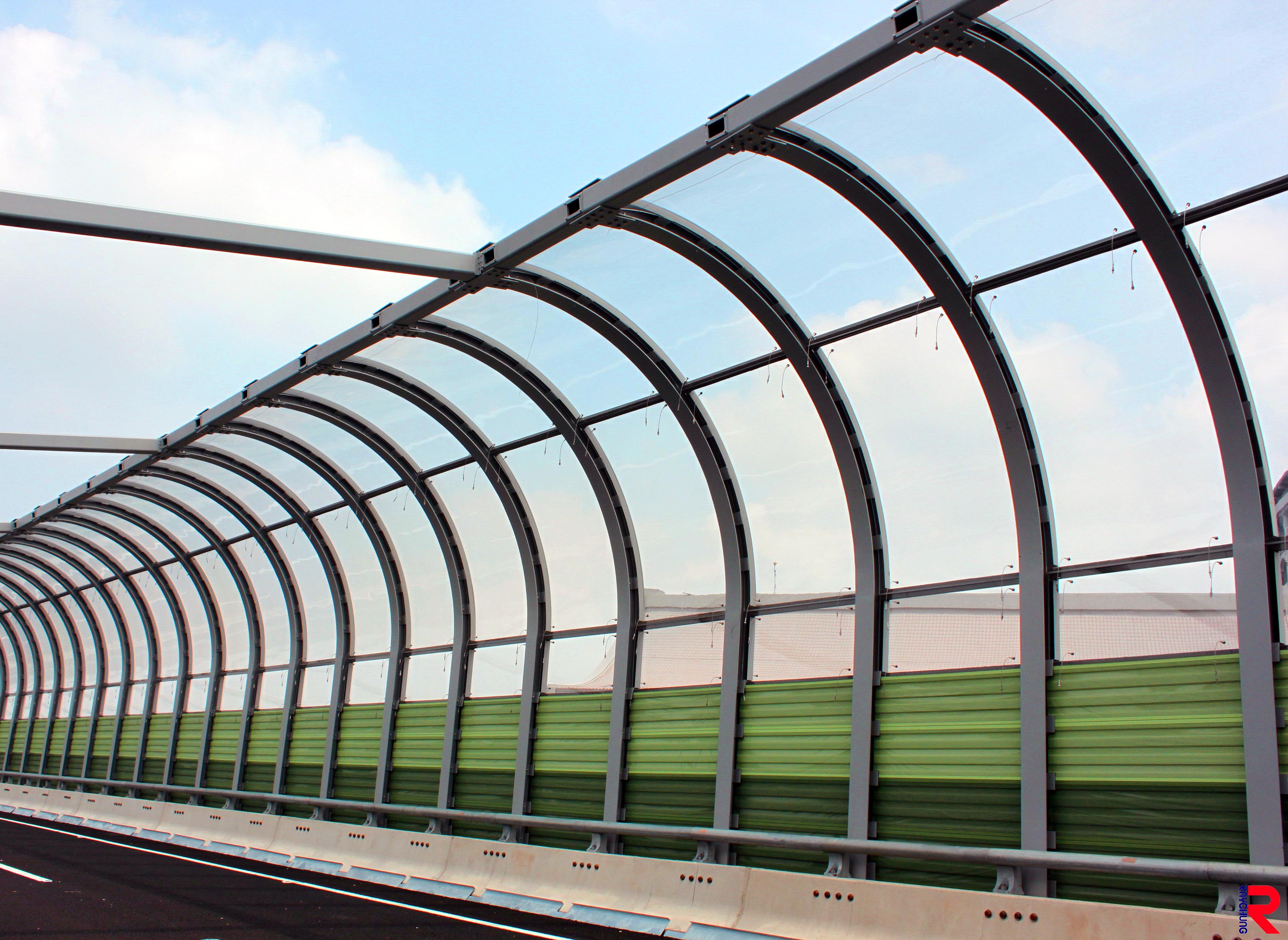 Sound barrier sheet is one type application of acrylic sheet. With high impact resistance and good noise isolation function, sound barrier sheet is used to reduce the noise, which is usually applied at highways, high speed train road section or public works. There are general type and anti-shattered type. The anti-shattered type is with nylon string embedded in the acrylic sheet, which has better protection.
The Tsinan Section of Beijing-Shanghai high speed railway, China and the Expressway Section near Tzu Chi hospital at Taichung, Taiwan are the practical application examples.

The material has virgin and recycled difference. With 100% virgin material produced, the sheets have excellent characteristic. On the contrary, the sheets with recycled material will smell with bad odor, and becomes yellowish easily.
Features
Cast acrylic sheet
Produced with 100% virgin material from Lucite
No recycled material
High transparency rate, just like as crystal, therefore praised as "queen of plastics"
Light weight in comparison with glass
Superior weather resistance
Can add anti-UV for outdoor use
Easy fabrication and installation
Most superior in physical and chemical respects.
Elegant appearance
High impact resistance & Safety
Good noise isolation
Ecological & Environmental protection
SHANGHAI RAY CHUNG ACRYLIC INDUSTRY CO.,LTD
SOUND BARRIER SHEET SIZE TABLE
size

A

N

M

thickness

1940x2030mm

2060x2580mm

2060x3060mm

10mm

47.2kg

63.8kg

75.6kg

12mm

56.7kg

76.5kg

90.8kg

13mm

61.4kg

82.9kg

98.3kg

thickness

1920x2010mm

2040x2560mm

2040x3040mm

15mm

69.4kg

94.0kg

111.6kg

18mm

83.3kg

112.8kg

134.0kg

20mm

92.6kg

125.3kg

148.8kg

thickness

1890x1980mm

2010x2530mm

 

25mm

112.2kg

152.6kg

 

Remark : (1) The production of the noise barrier board with string starts from 15mm.

(2) The size includes the PVC gasket.
Tolerance
CAST ACRYLIC SHEET TOLERANCE
| | | | |
| --- | --- | --- | --- |
| THICKNESS | TOLERANCE | THICKNESS | TOLERANCE |
| 1.5 MM | ± 0.2 | 11 MM | ± 0.7 |
| 2.0 MM | ± 0.4 | 12MM | ± 0.7 |
| 2.5 MM | ± 0.4 | 13MM | ± 0.8 |
| 2.8 MM | ± 0.4 | 15MM | ± 1.0 |
| 3 MM | ± 0.4 | 16MM | ± 1.0 |
| 3.5 MM | ± 0.5 | 18MM | ± 1.0 |
| 4 MM | ± 0.5 | 20MM | ± 1.5 |
| 4.5 MM | ± 0.5 | 25MM | ± 1.5 |
| 5 MM | ± 0.5 | 30MM | ± 1.7 |
| 6 MM | ± 0.5 | 35MM | ± 1.7 |
| 8 MM | ± 0.5 | 40MM | ± 2.0 |
| 9 MM | ± 0.6 | 45MM | ± 2.0 |
| 10 MM | ± 0.6 | 50MM | ± 2.5 |
Applications
Building material : sound barrier sheets, partitions
Files Download

---

We Make Acrylic Sheet Superior

---

---

Among the plastics, acrylic sheet is the most superior in physical and chemical respects. Its transparency is excellent, just like as crystal, therefore praised as "queen of the plastics".

---

---
Press Release
Sound Barrier acrylic sheet application

With light weight and easy to fabricate, acrylic sheets can be used as sound barrier sheets to reduce the noise. The application location is highways, high speed train road section or public...

Read More

Clear Acrylic sheets for Crystal Photo Illuminator and Light Boxes

With high transparency advantage, clear acrylic sheets are suitable for making crystal photo illuminators and light boxes.

Read More

Diffusion sheet for signboard luminous words

Diffusion sheets are good material for combination with LED strips to become signboard luminous words.

Read More