IR-Cut Sheet
RC-I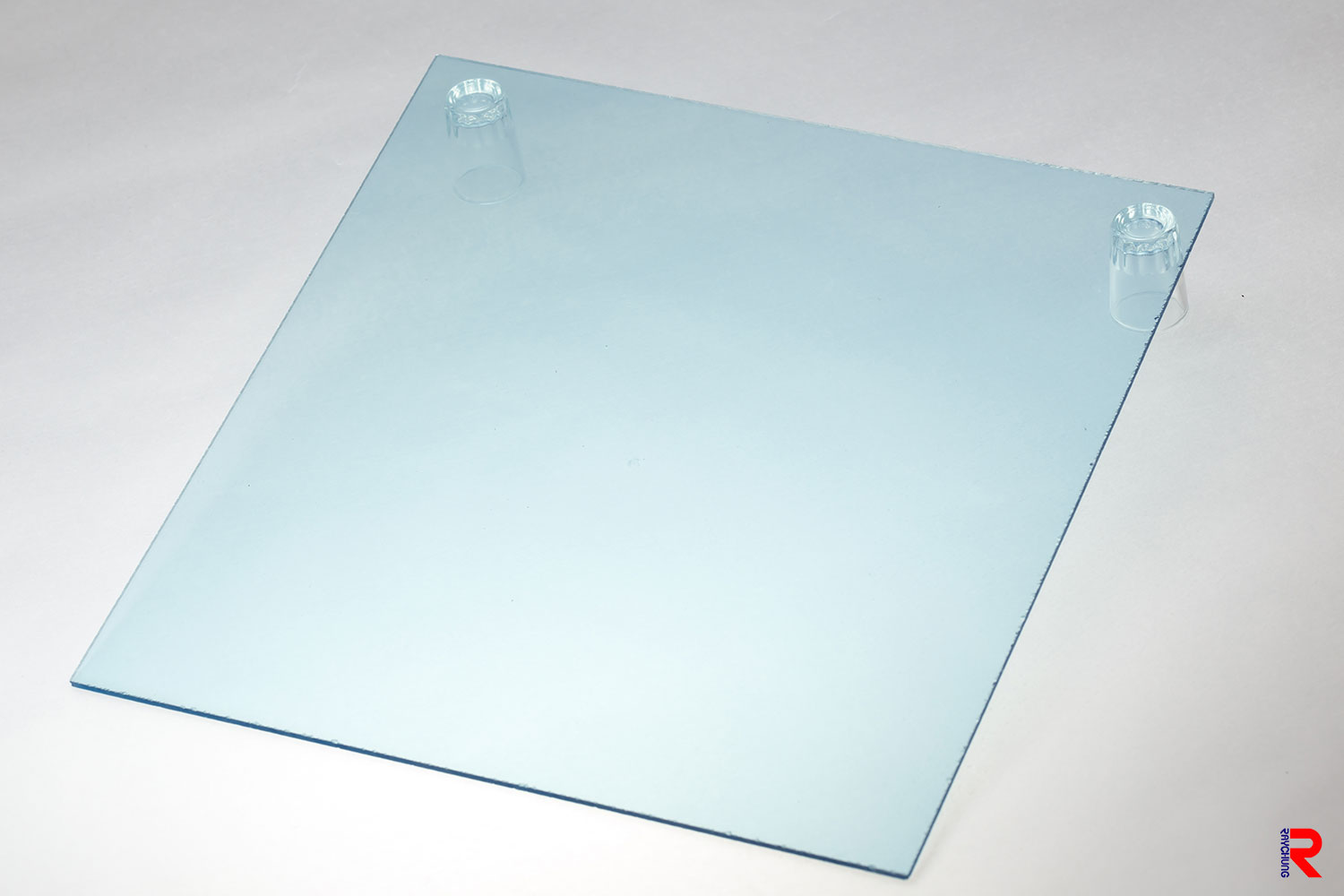 IR-Cut is our latest innovation of cast acrylic sheet application.
With visible light transmittance 70%, Infrared Ray cut off 90%, the main function is to reduce heat from sunshine (according to test, room temperature can be reduced up to 6℃). IR-Cut sheet is applicable for green house, skylight, the doors and windows material, energy conservation is more than 25%.

The material has virgin and recycled difference.
With 100% virgin material produced, the clear sheet have excellent characteristic. On the contrary, the sheets with recycled material will smell with bad odor, and becomes yellowish easily.
Features
Cast acrylic sheet
Produced with 100% virgin material from Lucite
No recycled material
Light weight in comparison with glass
Superior weather resistance
Suitable for outdoor use
Easy fabrication
Most superior in physical and chemical respects.
Elegant appearance
Tolerance
CAST ACRYLIC SHEET TOLERANCE
| THICKNESS | TOLERANCE | THICKNESS | TOLERANCE |
| --- | --- | --- | --- |
| 1.5 MM | ± 0.2 | 11 MM | ± 0.7 |
| 2.0 MM | ± 0.4 | 12MM | ± 0.7 |
| 2.5 MM | ± 0.4 | 13MM | ± 0.8 |
| 2.8 MM | ± 0.4 | 15MM | ± 1.0 |
| 3 MM | ± 0.4 | 16MM | ± 1.0 |
| 3.5 MM | ± 0.5 | 18MM | ± 1.0 |
| 4 MM | ± 0.5 | 20MM | ± 1.5 |
| 4.5 MM | ± 0.5 | 25MM | ± 1.5 |
| 5 MM | ± 0.5 | 30MM | ± 1.7 |
| 6 MM | ± 0.5 | 35MM | ± 1.7 |
| 8 MM | ± 0.5 | 40MM | ± 2.0 |
| 9 MM | ± 0.6 | 45MM | ± 2.0 |
| 10 MM | ± 0.6 | 50MM | ± 2.5 |
Applications
Building material : sound barrier sheets, partitions, windows, doors, skylight
Files Download

---

We Make Acrylic Sheet Superior

---

---

Among the plastics, acrylic sheet is the most superior in physical and chemical respects. Its transparency is excellent, just like as crystal, therefore praised as "queen of the plastics".

---

---
Press Release
Sound Barrier acrylic sheet application

With light weight and easy to fabricate, acrylic sheets can be used as sound barrier sheets to reduce the noise. The application location is highways, high speed train road section or public...

Read More

Clear Acrylic sheets for Crystal Photo Illuminator and Light Boxes

With high transparency advantage, clear acrylic sheets are suitable for making crystal photo illuminators and light boxes.

Read More

Diffusion sheet for signboard luminous words

Diffusion sheets are good material for combination with LED strips to become signboard luminous words.

Read More